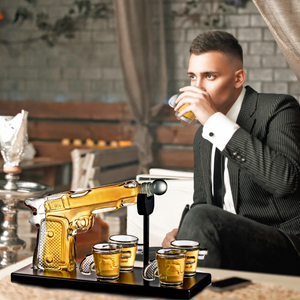 Gun Decanter Set with 4 Gun Shaped Glasses on Tray
GUN DECANTER - 200ml - The Bezrat Lead free Whiskey Decanter enters with an exclusive design - The decanter is made with high-end borosilicate glass for both durability & because borosilicate glass is an ideal host for refined liquors. It does not change the color, taste, or alter the nuances of your favorite alcoholic beverages.
🎁GUN SHAPED SHOT GLASSES - 4 - Includes four 2 oz glasses. Our glasses feature a unique design with prop penetrating the glass. - Our  decanter never fails to deliver the best impressions. Make a sophisticated gift on Father's Day, Birthdays, Graduation Day, Christmas, Anniversaries, Weddings or any occasion worthy of a standout gift.
🎁WOODEN MAHOGANY TRAY - Unlike other decanters out there, Bezrat DECANTER comes with a beautiful mahogany stand. This elegant decanter set takes your home decor to the next level. It will be the beginning of many conversations as your guests gravitate towards the decanter in awe of its beauty and novelty.